Gifts


Loading...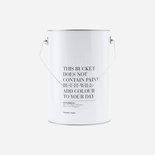 Nicolas Vahé - Storage with lid Bucket / Container 2.0
LAST 4!

Storage with lid / container 2.0

Nicolas Vahé
This cool container from Nicolas Vahé can be used in many different ways.
You can use it as a different packaging for a hostess gift, storage for kitchen accessories, or fill it with ice to create an alternative wine cooler.
It is completely up to you what you use it for, but it will definitely add liveliness and colour to your everyday life.
​
Colour:
white
Material:
metal
Measurement:
Ø17,5 x 25,5 cm